Amateur Radio in Stratford upon Avon and Shakespeare Country
Welcome to
Stratford-upon-Avon
& District Amateur Radio Society.
Callsign GX0SOA


With support from Stratford Town Trust
---
SDRS is a club for radio amateurs (aka radio hams) and all those interested in radio communications or radio related technology, electronics, etc.
The society usually meets on the 2nd & 4th Mondays of the month with a break during January and August. Doors open at 1930 (local time) for 2000 hrs start
Activities include talks, visits, activity evenings and putting on special event (demonstration) stations often using the club callsign of GX0SOA (or G0SOA).

Become a radio amateur with just a weekend or two's study (no morse required!). SDRS are not currently offering study (possibly in future) but other local clubs may be and there also online training available. RSGB training course finder
News : - Restart of meetings via Zoom only due to on-going Corvid-19 (Coronavirus) restrictions.
Don't forget to join us on non-meeting Monday evenings for the society net on 145.275MHZ NBFM at 2000 local time.

Click here for a link to the RSGB information page about licensing and to the UK Government's Office of Communication, OFCOM's amateur info. web pages . Free online foundation training
Useful or interesting radio related links.
Society HQ = Foundation House, Masons Road, Stratford-upon-Avon, CV37 9NF
Beware not all satnavs bring you to the door using the postcode, see location map link below.
Note; entrance has to be kept locked in the evenings so call on soc. net freq of 145.275Mhz, ring 'our' doorbell or knock on window to left of entrance.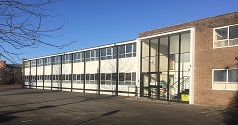 Click image to enlarge
| | | |
| --- | --- | --- |
| | | Monday's other than meeting night – society net on air,# = 145.275MHz ±QRM - 2000 local time. |
| 2020 | | |
| | | |
| Oct | 12th | Restart - informal Zoom meeting for members – watch out for invite email |
| | 26th | Zoom presentation by John, G1AWJ entitled 'NVIS, a Phantom and a Garden' – watch out for invite email |
# indicates that the meeting/event may not be held at Foundation House.
Pages created by Clive Ousbey, G0CHO
Email =
Last updated on 6/10/2020